The Fiber Distribution Amplifier provides an OBI free solution for RFoG applications.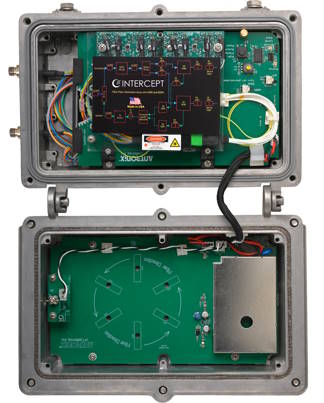 Fiber Distribution Amplifier
Key features:
Usable in a wide variety of CATV applications and compatible with DOCSIS 4.0 up to 1794 MHz
Modular high sensitivity MDR covers 5-204 MHz return band
The unit consumes less than 16 watts of power via the local (40-95 VAC powering)
The units can be installed indoors or outdoors in either strand or pedestal mount
Download Brochure
Fiber Distribution Amplifier
The Fiber Distribution Amplifier provides an OBI free solution for RFoG applications which can support up to 16 wavelengths via DWDM and is ideal for analog systems designed for extending legacy networks, maximizing legacy RF infrastructure and acquiring new FTTH residential subscribers, while economically and strategically migrating to a FTTH XGSPON ecosystem.
The Fiber Distribution Amplifier can be deployed with optional EDFA for superior performance and boasts a hardened, environmental robust strand mount hardware design, making it ideal for rapid and efficient field upgrades and network extension projects.
Deployed together with the Intercept AIFA Inverse Fiber Amplifier, the Fiber Distribution Amplifier is a highly effective tool for extending legacy HFC network areas for FTTH data service delivery into subscriber areas which cannot be effectively serviced over the legacy coaxial infrastructure.
In addition, the FDA provides OBI free O:O signal distribution as part of Intercept''s FXP Extended Spectrum DOCSIS (ESD) solution for superior end of line performance in 1.8 GHz networks where cable loss and subscriber density is prohibitive for maximal data rates and consistent end of line MER.
Industry Leading Performance to Extended Spectrum DOCSIS Networks
The Intercept™ FXP Optical Express 1.8 GHz system delivers industry leading end of line performance in stretched and low density networks which are deploying ESD (Extended Spectrum DOCSIS).
FXP converts Electrical signal to Optical for express delivery as an overlay to legacy coaxial plant, overcoming excessive coax losses and delivering optimal end of line MER performance and exceptional throughput.
Deployed forward of the legacy HFC Fiber node, the FXP system converts the RF signal to optical and distributes the analog signals through an OBI free Fiber Distribution Amplifier (FDA) with optional EDFA.
Each FDA can support up to 16 Micronodes which are deployed centrally to the tap cascade, segmenting the node for improved performance, increased spectral efficiency, resulting in symmetrical multigigabit data rates for all subscribers in the service group.
The FXP platform is designed to replace RF amplifiers in extended spectrum deployments that need superior end of line performance to improve ROI, and can reliably deliver 4K QAM modulation rates in networks with average cable spans of up to 250 feet between taps, and superior MER as compared to conventional Fiber Deep architectures for longer cascades in rural or semi rural areas. All while maintaining a fiber deployment plan that is consistent with FT Tx builds, future proofing your plant infrastructure for next Gen PON without the steep investment curve of a wholesale conversion to a Distributed Access XGS PON ecosystem.