At Teleste Intercept, we are dedicated to alleviating the frustration that technical issues can cause, which is why we offer professional technical support services to our customers. Our services are designed to help our customers maximize their productivity and minimize disruptions, ensuring that they can focus on their core business operations.
Always engage with experts
One of our fundamental values is to always engage with experts. We take great pride in employing highly skilled professionals who handle our customers' initial inquiries. This approach enables our customers to quickly escalate their cases without the need to repeatedly explain their situations. Our experts have immediate access to the most detailed information, as they work closely with the product development department. Furthermore, to ensure faster and more efficient problem-solving, we assign top experts to serve our customers throughout the entire process, starting from the initial notification and continuing until the issue is resolved.
Support portal
Easy access to services is of great importance for our customers. To support this priority, we've developed the Support portal. This platform allows our customers to submit support requests and keep track of their support cases, as well as communicate directly with our technical support team. With the Support portal, our customers can report new incidents, check the status of their open cases, review the action history and historic incident data, and update their incident records. If a customer doesn't have access to the portal yet, we're always happy to help them request an account.
Support Report
We offer our customers the Support Report as a complimentary service, which is sent to them via email on a quarterly basis, requiring no additional action on their part. By maintaining a valid support contract with us, our customers have access to this convenient online service.
The Support Report provides our customers with valuable insights into the status and inventory of all their Teleste devices and software licenses. It offers up-to-date information on their support agreement status and available support services, enabling them to stay informed. Additionally, the report makes it easy for our customers to renew their Teleste product support whenever necessary.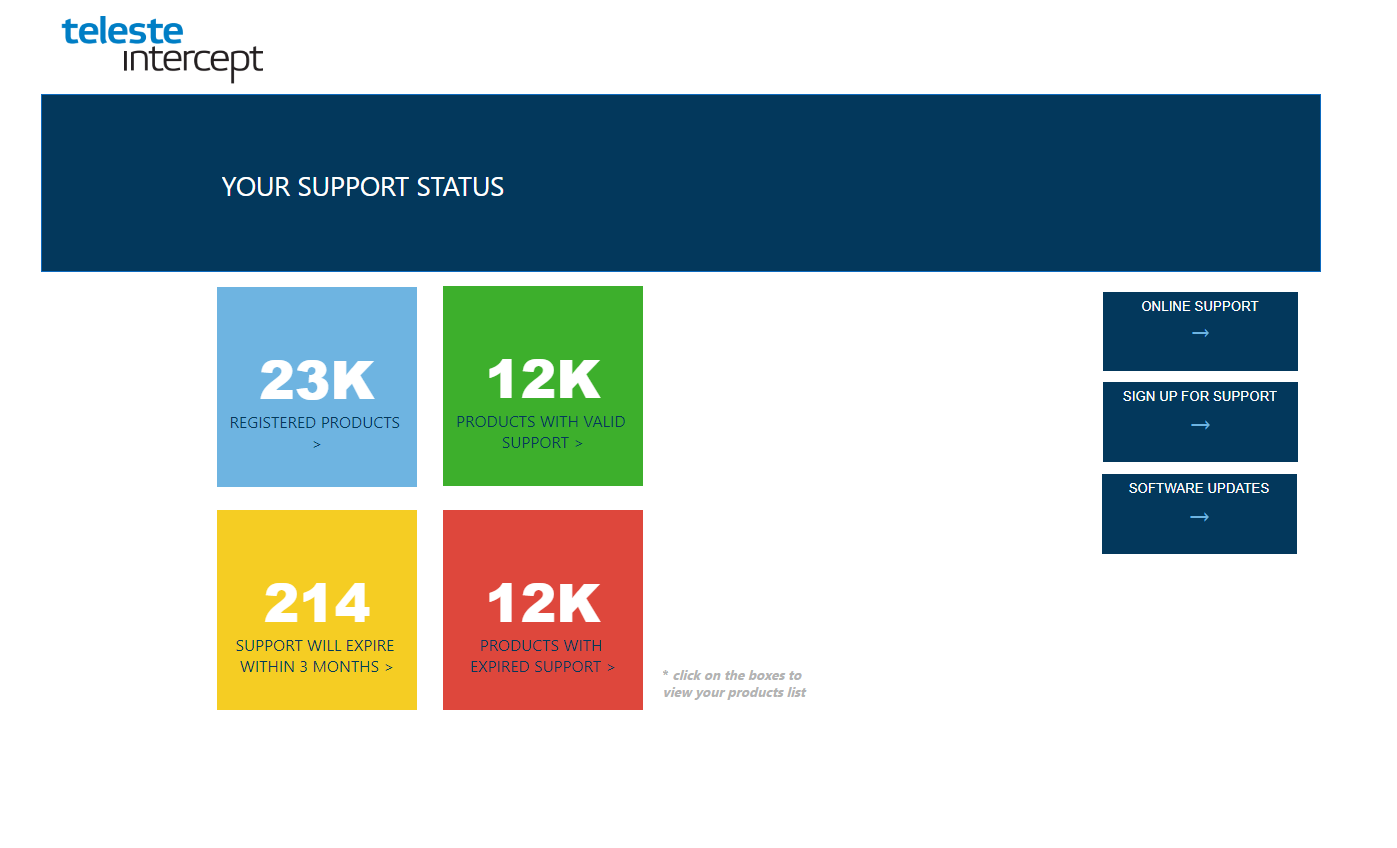 The Support report gives a quick overview of the status of the entire device base and also detailed information about individual devices.
Repair Service
Although products are of the highest quality, from time to time repairs may be required. Should this be the case, our repair service is available to assist. Our customers can report a faulty device for repair on the Teleste Intercept website, and it's easy to contact us and submit all hardware repair requests through our Repair service. Our Repair service can assist our customers with hardware warranty repairs, hardware out-of-warranty repairs, and DOA (Dead On Arrival) cases. Our Repair service provides complete visibility on the progress of our customers' cases from start to finish.
Repair Service is another valuable part of our offering. Customers can easily report any faulty devices for repair on our website, and all hardware repair requests can be conveniently submitted through the service. The customers can be assured that their hardware repair needs are in good hands, and our team is committed to providing them a hassle-free and fast service.
MyTeleste
The MyTeleste tool is designed to provide our customers with Teleste devices with convenient access to software releases and technical documentation for both Teleste current and legacy products. With MyTeleste, our customers have access to resources they need in order to ensure a seamless and efficient experience when using our products. The service is available 24/7 and can be accessed from anywhere in the world.
As our valued customer, you can easily apply for MyTeleste access by navigating to the Teleste website and clicking on the top menu link. Our team is always available to assist you with any questions or concerns you may have regarding the signup process.
We remain committed to delivering high-quality customer service and support and have developed these online tools to help our customers get the most out of their products and software.
Professional Technical Support services at your disposal
We remain committed to delivering professional technical support services and have developed these online tools to help our customers get the most out of their products and software.